We Care
Giving back to others is a source of great joy to our team. Since 2006, Dr. Eric Hogan, Dr. Robin Hogan, and the team have enjoyed giving back to local organizations with our time and talents. We have created a few special opportunities of our own to make a difference for our community.
Give Kids A Smile (GKAS)
We are committed to creating excellent dental experiences for children. GKAS is a national event held annually by dentists throughout the United States where children benefit from receiving dental treatment at no charge to the family. This program is affiliated with the American Dental Association.
In 2007, we launched our first annual GKAS event in affiliation with the American Dental Association. The GKAS event is held on the first Friday in February at Hogan Family Dental and provides dental services to children ages 1 through age 18 at no charge to the family. Since 2007, over $200,000 in free dental services have been donated in free dental services through partnerships with the Smile Savers program at Holy Rosary Hospital and the Give Kids A Smile program.
Cash-4-Candy
This program is sponsored by Hogan Family Dental and awards local children with a free toothbrush and $1.00 cash per pound of excess Halloween candy turned in to our office. This community event is held on the two business days following Halloween. Donated candy is packaged by local volunteers and sent overseas to our military troops. Children and adults enjoy this event because it is a fun way to interact with the dentist. Our troops welcome treats from home.
Backpack Drive
We would like to help children have the opportunity to have a backpack to start school. In 2017, Hogan Family Dental launched an annual backpack drive to provide local children these backpacks with school supplies. Residents in Miles City, Broadus, and surrounding communities donate needed supplies to fill backpacks donated by Dr. Eric Hogan and Dr. Robin Hogan. Principals, teachers, and local agencies (CNADA and DEAP) are contacted to determine the needs of local children.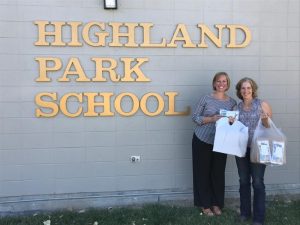 Toothtastic Club
In 2017, Drs. Eric and Robin Hogan sponsored the Toothtastic Club for local schools in Miles City. Many children enjoy their breakfast and lunch meals at school and miss out on the opportunity to brush after eating. Hogan Family Dental donated toothbrushes, toothpaste, floss, and a case to store them safely at school. Dr. Robin Hogan visited local schools at the start of the school year to visit about proper tooth brushing and flossing.
School Outreach
Dr. Robin Hogan and Registered Dental Hygienist Julie Collins both make annual visits to local schools. Healthy dental habits, including proper tooth brushing, flossing, and nutrition basics are shared with preschool and elementary-age children. Julie and Dr. Robin have also offered pediatric oral screenings in Terry and Broadus.
Sporting Activities
We believe every child deserves the benefits associated with physical exercise. We are happy to sponsor the Miles City Youth Hockey Association, Miles City Youth Baseball Association, Miles City Youth Soccer Association, MCC Pioneer Basketball, and Custer County District High School Athletics. Dr. Eric Hogan has volunteered as a little league coach and with the "Learn to Play Hockey" program. Dr. Robin Hogan has regularly volunteered as an assistant soccer coach since 2013.
Custer County Food Bank
In conjunction with local food bank administrators, Hogan Family Dental has sponsored multiple food drives to help stock the shelves of our local food bank. At holiday times, we have donated money for holiday meats to the food bank and invited the community to donate the 'trimmings' for holiday dinners.
Grounds for Change & Festival of Trees
Hogan Family Dental has an excellent working relationship with Grounds for Change, a local nonprofit that benefits families and individuals in need. Grounds for Change offers parenting classes, interactive family events, and one-time use vouchers for vision, dental, medical, travel and other expenses to residents of Custer County. Their annual fundraiser is called the Festival of Trees. Hogan Family Dental has supported this event since 2012, by donating a decorated Christmas tree or wreath for the auction.