Missing Teeth?
Are you missing teeth? Do you have dentures? Do you have a bridge that is failing? If your answer to any of these questions is "Yes", your dentist may have recommended dental implants. Dental implants are a tooth root replacement made from medical grade titanium. These implants can be adapted for any situation involving missing teeth.
Extractions
When a tooth is removed or extracted, the body begins remodeling the bony and soft tissue architecture of the extraction site. The teeth adjacent to and opposing the extraction site will shift. This shifting alters a patient's bite. If multiple teeth are removed, the bone and the facial features that held them in place will also shrink. The speed of this process will vary among patients, and in most cases, is slow enough to allow for time to replace the missing tooth. Dental implants can be an effective solution to minimize these anatomical changes.
Who is a candidate for an Implant?
Comprehensive Evaluation
How do you know if you are a candidate for dental implants? First, a thorough evaluation of a person's medical and dental history is needed to identify if a patient is a candidate for implant therapy. A general dentist completing this examination will identify if you have any oral conditions (grinding teeth, gum disease, bone loss) that would put the future success of the dental implant at risk.
3D Radiography
Next, a general dentist will evaluate the potential success of a dental implant. He/she may take impressions to analyze the design of the final prosthesis or restoration. A 3D cone beam radiograph will be exposed to help visualize the health and density of the bone at the proposed implant site.
Treatment Planning & Home Care
Finally, the dentist will take into consideration the patient's desired end-result. During a patient's consultation, your dentist will discuss treatment options with you concerning the design of the final restoration, the changes to your home care routine, and options of prosthetic materials. Your answers will help devise a quality long-term solution with an aesthetically pleasing outcome.
The Key to Success
The key to long term success is choosing a dentist with both a careful eye for treatment planning and excellent surgical abilities. Research shows that the success of a dental implant is correlated to the design of the final prosthesis. A strategically placed implant may hold a single tooth crown now, and if needed, may support a denture in the future. We encourage you to visit with your dentist about how to address your immediate need, while simultaneously planning for the future.
Get Involved
Most patients are not concerned with the nuts and bolts of how dental implants are placed. We encourage you to get involved and ask questions about the angulation of the implant, location of the implant, and the relationship of the implant to neighboring teeth or other implants. We invite you to be an advocate of the long-term success of your dental implant.
Surgical Implant Placement
The surgical placement of dental implants is similar to building a house in many ways. When the footings are placed in the correct position with the proper materials, the house will be sufficiently supported. The individuals who live in the house will not experience sagging floors or creaking floorboards. In the same manner, careful planning is essential to the future success of a dental implant—from choosing the correct dimensions of the implant (length and width), to choosing the implant placement site, angulation, and depth.
Available in Miles City
Comprehensive planning for dental implants and excellent patient care is available to you right here in Miles City at Hogan Family Dental. Dr. Eric is unique in his abilities because he surgically places dental implants with the final prosthesis in mind. Using three-dimensional radiography—the current standard of care for implant dentistry—he can virtually "see" the potential implant site in a 3D view, and virtually place the implant for full confidence of correct surgical placement. His thorough planning and excellent surgical ability provide consistent clinical results.
Cutting Edge & Experience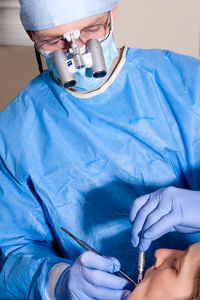 To stay at the top of developments in implant dentistry, Dr. Eric has spent, and continues to spend many hours in continuing education. He works with top clinicians to hone both his surgical techniques and the restorative aspect of implant dentistry. Recently, Dr. Eric has incorporated new instruments to maximize the patient's anatomy, minimize the number of surgical procedures, and minimize treatment time.
Dr. Eric Hogan is an Associate Fellow in the American Academy of General Dentistry and is currently working towards becoming a Fellow. He has utilized 3D radiography (since 2008) to surgically place dental implants and complete the desired restoration for each situation: single-tooth crowns, dental bridges, implant supported partials and dentures, and full-mouth reconstruction.
Contact Us
At Hogan Family Dental, we strive to provide lifelong solutions. We invite you to call our office at (406) 234-2926 for a consultation.