The science of human emotion has been well researched. A smile can be an invitation, an approval, a means to show empathy, and clearly, a way to show joy. When smiles are genuine, they often increase joy and peace for the individual who is smiling as well as for the recipients.
"Smiling helps to generate more positive emotions within you. That's why we often feel happier around children – they smile more. On average, [children smile] 400 times a day. Whilst happy people still smile 40-50 times a day, the average of us only [smile] 20 times." – Leo Widrich
A smile is very complex. An authentic smile is called a Duchenne smile and requires the excitation of the zygomatic major and orbicularis oculi facial muscles. Over 14 different kinds of smiles exist to portray a variety of emotions.
Drs. Eric and Robin Hogan have observed over time a few simple truths about smiles. Individuals, who are proud of their smile, frequently smile broadly and show their teeth. Some individuals rarely show their teeth when they smile. Some individuals intentionally avoid smiling because they do not want others to see their teeth.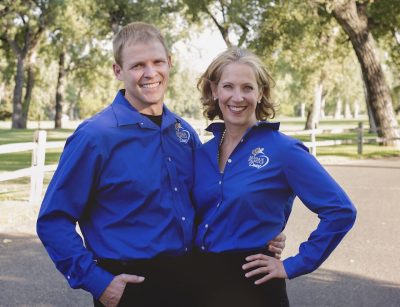 Dental Procedures Can Make a Difference
At Hogan Family Dental, our mission is to provide exceptional dental treatment for every patient at every visit. In many cases, Drs. Eric and Robin Hogan have found simple procedures may be rendered to improve the appearance of a smile. Dental procedures to consider for changing the aesthetics of a smile include: dental whitening, dental veneers, dental cleanings or periodontal treatment, and orthodontic treatment.
Dental Whitening
Dental whitening is a non-invasive dental treatment used to dramatically improve the appearance and youthfulness of a smile. Three options of dental whitening are available, depending on how quickly a patient wants to see results.
Laser whitening takes less than an hour and requires a dental visit. Whitening trays or periodic trips for touchups (just as yodu touch up hair highlights) are recommended to maintain results.
Whitening trays are custom fit for at-home use. These utilize a whitening gel to lighten the teeth over a period of two weeks. Patients can maintain a bright, white smile whenever they want by simply applying more gel after their initial whitening phase.
Sheer White strips are adhesive strips that cling to the tooth. These are worn for 1-2 hours at a time over a period of five days, and are a handy option for quick touch-ups before a special event. Results are typically seen in less time than over the counter whitening strips.
Dental Veneers
Dental veneers are an excellent aesthetic option for a patient who would like to change the shape, shade, or spacing of their front teeth. Veneers may be made of porcelain or dental composite. Patients are often involved in the process (if they choose) and may help in selecting the shade of this beautiful restoration. Composite dental veneers are created by your dentist in one visit and porcelain veneers are created in two visits by a dental technician and your dentist. Both options offer the patient a beautiful, aesthetic result with excellent longevity.
Dental Cleaning & Periodontal Treatments
Dental cleaning and periodontal treatment are an excellent way to improve the health of gum tissues. Puffy and red gums are experienced by some patients, and are often painful. A thorough dental cleaning or periodontal treatment will improve the health of your gums and will create a more pleasing smile.
Orthodontic Treatment
Orthodontic treatment (braces) is an excellent way to create a more beautiful smile when a patient experiences insufficient space in the dental arches. Dental crowding, missing teeth, or a poor relationship between the upper and lower jaw can be treated with orthodontics. Careful collaboration between your dentist and your orthodontist will provide optimal results for the function of your teeth and appearance of your smile.
Our Commitment
Each treatment option presented here to improve the look and appearance of a smile has unique advantages. We look forward to the opportunity to create the smile of your dreams.
---
Contact Us
Our team at Hogan Family Dental would be happy to visit with you to answer any additional questions you may have. Call us today at (406) 234-2926.
"Smile in the mirror. Do that every morning and you will start to see a difference in your life." – Yoko Ono.